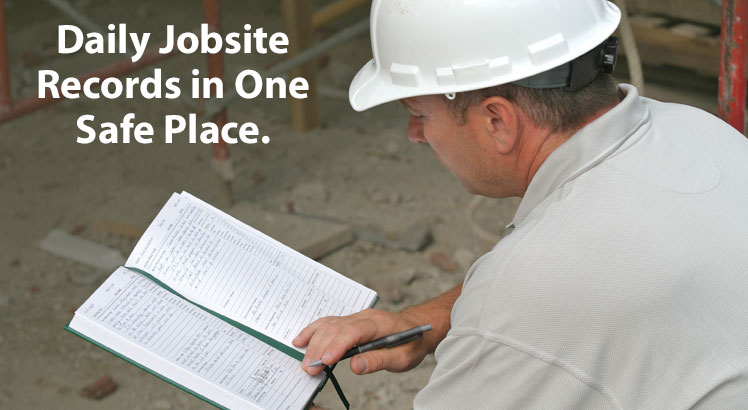 Soon after creating Weekly Safety meetings in 1978, we came to the realization that our customers, needed a good, structured way to keep track of what happens at their construction sites on a day-to-day basis. We saw superintendents keeping notes on loose-leaf paper, which ultimately shocked us. What are they doing with these papers, and how are they organizing them? We saw too often these 'loose' papers getting lost from their binders. This brought us to the development of the Daily Log Book.
What Is The Daily Log Book?
The Daily Log Book helps superintendents and supervisors keep track of the following daily records:
Work performed
Weather
Subcontractor progress
Materials purchased
Workforce
What Type Of DAILY LOGS Are Available?
Here at Safety Meeting Outlines, we offer three different types of Construction & Maintenance Daily Log Books.
Green Standard Edition: a one-page-per-day Daily Log.
Blue Expanded Edition: a two-page-per-day

D

aily

L

og

. The Blue Expanded Edition has one formatted page and one lined page for every day of the calendar year. Those who run large and complex projects, or who manage large numbers of subcontractors, should consider the expanded, two-page per day version of the book. The expanded version will give you the extra pages you need to record the details of large projects.
Pocket Edition: a 3-month

D

aily

L

og

. The Pocket Edition Log introduces a brand new format. The log is 4" by 6½" making it easy to fit into a shirt and hip pockets. There are 92 pages to accommodate three months' worth of notes using one page daily. The pages are sewn together into the book, which provides durability and credibility. The pages in the Pocket Edition are not dated, you can use as many pages as necessary to record the day's activities.
What Can A Daily Log Book Do For My Business?
There is no question that good record keeping is important. The Construction & Maintenance Daily Log is the complete tool to secure job site records for your business. Complete job site records are the keys to the value in dispute resolution, whether that amounts to full-scale litigation, a phone call, or arbitration. A Daily Log keeps consistent records of all your job-related notes in one place. Overall, it will keep your ducks in a row and your profits in your pocket!
Not sure what Daily Log Book is best for you? Call us at (888) 665-3836!
Safety Meeting Outlines provides employers in the construction and manufacturing industries with educational tools to keep the workplace safe. Learn more about our products or order online.